Priority Area 1: Market Access – Preventing fruit fly is critical to market access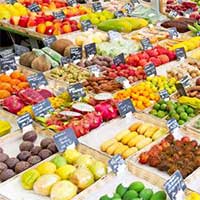 Preventing the spread of fruit fly and other exotic pests is critical to continue growing Australia's $2.7 billion horticulture export industries.
At the recent National Fruit Fly Symposium, Peter Creaser, Assistant Secretary Plant Systems and Strategy of the Department of Agriculture, Water and the Environment, elaborated on the risk fruit fly poses to export trade, the trends in trade negotiations and critical success factors, and emphasizing the importance of Australian governments, industries, and researchers managing risks to maintain and grow market access.
"Fruit Fly features strongly in export trade since it is considered one of world's most destructive horticultural pests. Fruit fly sensitive markets, including Australia, enact stringent border quarantine measures to prevent entry via imported fruits and vegetables," says Mr Creaser.
With a growing global population, the demand for Australia's high-quality produce is rapidly increasing. The Australian Government is responsible for meeting international obligations and complying with specific importing requirements and this is where biosecurity plays a critical role.
"Australia currently holds protocol trade agreements for fruit fly host commodities with nine international markets which includes a number of our key markets such as China, Japan, Korea, Taiwan, Indonesia, Thailand, Vietnam, US and New Zealand. These bilateral agreements are all based on recognition of national fruit fly management protocols," Mr Creaser explains.
Each bilateral agreement requires the Commonwealth to regularly communicate about fruit fly surveillance and outbreaks. Over the last few seasons, quite a substantial volume of correspondence has been issued to trading partners regarding fruit fly detections.
He says Australia's proactive approach is generally respected by trading partners and our reputation as a competent and transparent biosecurity manager is reaping benefits.
"However, now is not the time to become complacent. Some of our southern hemisphere competitors, particularly in Latin America, manage fruit fly successfully with rigorous and effective programs that are intensively resourced."
Although Australia is learning and sharing expertise with experienced international fruit fly managers, we need to remember that we are competing for the same market share.
Remaining ahead of the curve by supporting on-farm innovation and cutting-edge research and development, and strengthening the collective effort of governments, industry and researchers is critical to further strengthen Australia's national fruit fly management system.