Bundaberg fruit fly workshop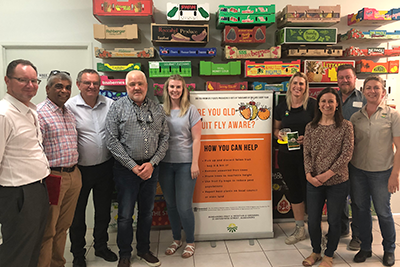 9 April 2020
On 4 March 2020, the National Fruit Fly Council collaborated with Bundaberg Fruit & Vegetable Growers to deliver a fruit fly workshop in Bundaberg, Queensland.
Christina Cook, Manager of the National Fruit Fly Council, said the workshop brought together Council members and regional stakeholders to discuss market access issues and farm hygiene practices in a region heavily impacted by fruit fly.
"It was a great opportunity to find out what fruit fly issues and information are important to growers in this region," said Christina.
"Attendees were particularly interested in issues such as research on the winter window in Bundaberg, systems approaches and effective trapping of female fruit flies."
"Another key area of interest at the workshop was developments in in-field management of fruit fly, particularly alternatives to current chemical options."
She said the group was also interested in receiving more communication from the Council.
"This was planned to be first of several fruit fly workshops held this year but due to the current COVID-19 situation these can no longer go ahead," Christina said.
"However, the Council is hoping to continue connecting with growers online using the Prevent Fruit Fly website and its accompanying e-newsletter and Twitter account."
"Through these channels we share updates from the Council and information for fruit fly affected industries, home gardeners, government regulators, researchers, and anyone else with a keen interest in fruit fly management."
"Once things return to business as usual the Council is excited to host a range of face-to-face activities including a series of regional fruit fly workshops and a National Fruit Fly Symposium. This is a great opportunity to work with the Council to plan delivery of workshops that will be of interest to your region."
Please contact fruitfly@phau.com.au if you have any questions or suggestions for a workshop in your area.