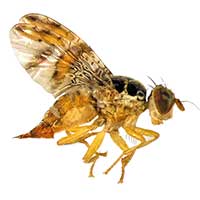 The National Fruit Fly Council's Phase 3 (2018 – 2021) project concludes in December 2021 and we are currently working with our partners to secure funding for the next five-years in Phase 4.
In addition to regular meetings, some of the key activities delivered by the NFFC during Phase 3 (2018-2021) include:
Delivery of the 2020-25 National Fruit Fly Strategy, and development of 2020-21 and 2021-22 Implementation Plans and associated reports.
Advice to governments on suitability of project proposals for the $13M Strengthening Australia's Fruit Fly System Research Program.
Advice to the National Biosecurity Committee and Plant Health Committee on the need to address risks associated with Australia's fruit fly distribution profile, the need for ongoing support for the WA Medfly SIT facility, and the need for development of a sustainable funding model for national fruit fly activities.
Coordination of industry workshops on trade vulnerabilities associated with Australia's east-west fruit fly distribution profile for seven fruit fly affected commodities.
Extensive engagement with over 100 growers across Australia in a dozen regional workshops exploring on-farm fruit fly issues.
Hosting six webinars on topical fruit fly issues.
Delivery of the 2021 National Fruit Fly Symposium, an online three-day event delivering nine hours of content, 38 speakers, and attracting over 420 registrants.
At our recent Council meeting, members reflected on the achievements and highlights of Phase 3:
Rosa Crnov (Chief Plant Health Officer, Department of Jobs, Precincts and Regions, Victoria) "The national fruit fly strategy is fantastic. We've thought about this nationally, we're working together, we're collegiate, we're collaborative, we share priorities, it's a significant achievement."
Steve Burdette (Technical Manager, Nutrano Produce Group)
"The amount of work that has been put in over the last three years is an amazing achievement."
Dale Williams (Mango Grower, Euri Gold Farms, Bowen Queensland)
"To me it's not just the strategy, the key achievement of the National Fruit Fly Council is the sign off and the legacy of the last strategy remaining in draft for its entire duration is testament to the success in actually getting it signed off and approved."
Andrew Bishop (Chief Plant Health Manager, Department of Natural Resources and Environment)
"More broadly, the strategy has been transformative over the period, in terms of turning the council into an organisation that's actually kicking goals and getting stuff done and progressing stuff."
Bertie Hennecke (Assistant Secretary: Australian Chief Plant Protection Office, Plant Health Policy, DAWE)
"The continuous commitment that all the members have to Council and what that has achieved in the boarder sense of improving fruit fly management across the country. Yes, we still have hurdles to go through and overcome but there is a long list that has been achieved, and that has to be celebrated."
Lloyd Klumpp (Chair, NFFC)
"The significant improvement in the engagement coming out of the Council has been a major achievement. Particularly the work that Christina Cook has done in building engagement – the symposium was just one example of that, and I think it has been a major step forward for the Council."