'Blue sky research' merges with practical solutions to combat fruit fly at national conference
25 June 2019
The Goulburn Murray Valley Fruit Fly Project recently hosted the 7th Australian Biology of Tehpritid Fruit Flies Conference which brought together key research, findings and emerging opportunities in the management and control of the pest.     
The two day conference was held in Shepparton, Victoria, the pome fruit capital of Australia, on 28 and 29 May.
The conference's theme was 'Blue Sky Applied' and highlighted blue sky research that can be applied to provide practical solutions for Australian horticulture.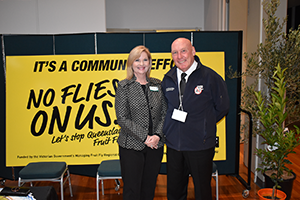 In addition to profiling the latest fruit fly research, the conference provided a conduit and extended the connections between National Research, the Sterile Insect Technique (SIT Plus Consortium) and Fruit Fly Area Wide Management. A range of presentations served to inform and update stakeholders of the latest progress and outcomes in fruit fly research and the practical implications involved for Australian horticulture.
Greater Shepparton City Council and Shires of Moira and Berrigan actively supported the conference. Greater Shepparton City Council Mayor, Kim O'Keeffe delivered a welcoming address to attendees who had travelled to Shepparton from all over Australia and overseas to participate in the event.
Goulburn Murray Valley Fruit Fly Project Coordinator Ross Abberfield described the conference as an invaluable opportunity to bring the sharpest of minds in the field together.
"We had approximately 150 registrations with 43 abstracts and numerous poster presentations over the two day conference. The number of presentations for Blue Sky Applied in Shepparton nearly doubled that from last year's conference in Canberra," Mr Abberfield said.
"This is a national event and brings together researchers from each end of the professional spectrum. It enables them to look, listen, learn and connect with their peers and recognised fruit fly research scholars," he said.
The Plenary Speaker was Dr Mark Schutze, Senior Entomologist, Biosecurity Queensland, Department of Agriculture and Fisheries (QDAF). Mark is responsible for curating the department's insect collection (which holds arguably the world's largest collection of dacine tephritids) and providing diagnostic expertise primarily on fruit flies, scale insects, aphids and thrips to support Queensland's agricultural industry and biosecurity.       
Dr Paul Cunningham, Associate Professor, Research Leader, Invertebrate & Weed Sciences, Agriculture Victoria Research was responsible for reviewing and prioritising the abstracts prior to presentation. Paul also chaired the sessions on Biosecurity and Market Access and Chemical Ecology and Integrated Pest Management.
Other notable presenters included Professor Anthony Clarke who chaired the session on Fruit Fly Ecology and Microbial Interactions. Dr Simon Baxter chaired the session on Molecular Biology and Genetics. Dr Nancy Schellhorn chaired the session on Chemical Ecology and Integrated Pest Management and Professor Phillip Taylor chaired the session on Chemical Ecology and Integrated Pest Management.
Short talks and poster sessions were conducted throughout the conference and a social networking evening 'Blue Sky Connect', was held on Tuesday night at the Sherbourne Terrace Function Room.
"If any of the attendees wish to conduct research programs or trials in the Goulburn Murray Valley region, I have offered to facilitate their requests through our Governance Group," Mr Abberfield said.
---
Acknowledgement: Reproduced from a media release supplied by the Goulburn Murray Valley Regional Fruit Fly Project.